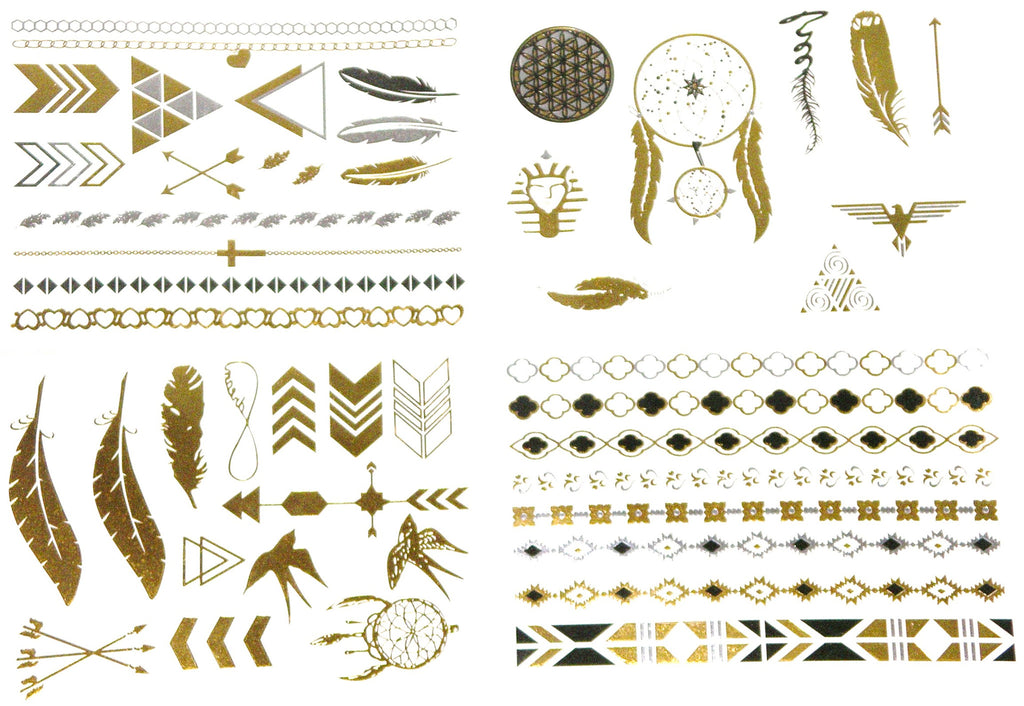 Made4Walkin
Metallic Temporary Tattoos Gold And Silver Four Sheets Boho Dreamcatchers Feathers Arrows Eagle Necklace Bracelet Upper Arm Band Tattoo
These gold and silver temporary tattoos are great for the beach, festivals and all day parties because of their brilliance in the sunlight but are great anytime and anywhere! Adorn your body with spiritual symbolism without a permanent commitment. Cut them how you like and apply them anywhere as necklaces, bracelets, arm bands, rings or all of the popular body art areas. This year's hottest good girl/bad girl look!

This set has an ➳ American Indian ☀ style. There are two dreamcatchers, feathers, arrows, and an eagle. There is other symbolism such as the flower of life, infinity, heart shapes, a cross, aztec patterns, doves and a pharaoh head. Many beautiful geometric designs great for arm bands, bracelets, ankles, rings and toe rings. They look great on your face too!

To apply:
1. Your skin must be clean, dry and free from lotions or oils.
2. Remove clear protective film and place tattoo face down on skin.
3. Gently press wet cloth or paper towel against tattoo paper backing for about 30 seconds.
4. Peel off paper backing and you're ready to roll!
5. To lengthen how long they last keep things like lotions, oils, hair sprays, perfumes and body sprays away from their area as oils and alcohols act as removers.

To remove:
1. Wipe away with baby oil.

Instructions Included.
Shipping:
Scroll To The Bottom Of Any Page And Click On "Shipping" To View Our Rates

Each sheet is 8 1/2" x 6" / Total of four sheets included
---
Share this Product
---
More from this collection